In fall 2016, Syracuse University rolled out Orange SUccess, a centralized advising system, to the whole campus after a largely successful pilot. The goal was to improve communications between students and their faculty and/or advisors, and streamline the process of advising across the University's schools and colleges.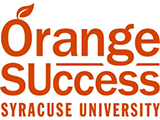 Feedback from most users of the system has been positive. Since its inception, more than 10,000 appointments between students and their advisors/faculty have occurred. Faculty have raised 19,140 flags and 21,439 kudos in support of 12,611 unique undergraduate students.
Administrators say one of the major accomplishments of the initiative is how the University has worked closely with the vendor to ensure accessibility for all.
"Accessibility and inclusion are part of the fiber of Syracuse University, and that fiber must carry through to the information and communication technology that is provided to all campus constituents," says Sam Scozzafava, vice president for information technology services and chief information officer. "Removing barriers to access, in all forms, must be a priority for all of us." A draft University-wide policy on information and communication technology, shepherded by the Workgroup on Diversity and Inclusion, is being vetted at open forums in the campus community.
Starfish Retention Solutions was chosen as the platform for Orange SUccess because it provided the best combination of usability and features, says Scozzafava. "Starfish was selected after a review of its accessibility," he says, "but there were some exceptions on the VPAT–the voluntary product accessibility template–that the vendor was still addressing."
"The adaptations that had to be made to improve accessibility have taught us a great deal about the importance of humility, patience and collaboration in everything that we do, as well as about the applicability and relevance of the principles of Universal Design for Learning," says Kal Srinivas, director of retention in the Office of the Associate Provost for Academic Affairs.
"We knew it was critical to develop a partnership and process with Hobsons (Hobsons, Inc. is now the owner of the Starfish Retention Solutions system) that would allow us to continue to move forward with the system implementation and adoption, but also work together to eliminate remaining accessibility issues," says Scozzafava. "We've found Hobsons to be a great partner. They have been very transparent about their product development methodology, and they have welcomed our input into issue identification and prioritization. It has truly become a partnership."
Scozzafava emphasizes the importance of establishing an ongoing process for ensuring the accessibility of this system, as well as other systems around the University. "Many systems we deploy are large, complex, multi-module systems. As vendors continue to add new features and upgrades, new accessibility issues and other difficulties can arise," he says. "These systems are dynamic, and thus can never be considered 'done.' A highly accessible system today could have a problem with accessibility in its next release. Establishing and maintaining a long-term process with our software and service providers is the best insurance we have toward achieving and sustaining our accessibility goals."
Much has been learned through the implementation of the system and the ensuing work in ensuring its accessibility, Scozzafava says. "We have learned, without a doubt, that not all technology service and/or system providers are created equal. I would classify Hobsons as a model citizen in regards to their responsiveness and willingness to partner with Syracuse."
Scozzafava and Associate Provost for Academic Affairs Jeffrey Stanton have submitted a proposal to present at the October 2017 EDUCAUSE Annual Conference. Titled "Enabling Accessibility for Cloud-Based Systems: From Contracts to Consortia," their presentation describes the University's experience with making improvements to Orange SUccess and other systems.
"One goal we have is to use the EDUCAUSE platform to gauge interest amongst our peers to combine forces and emphasize to vendors that higher education campuses want and need their information technology partners to be more like Hobsons, or run the risk that they are left behind as more and more campuses strive for accessibility for all," Scozzafava says.
The Orange SUccess team is committed to providing periodic updates to the University community on the system's accessibility as well as training materials and other information. Accessibility updates appear can be found here.
Wednesday, December 21, 2016, By Carol Boll
Syracuse University's web-based online advising tool, Orange SUccess—an initiative that advances a key priority of the Academic Strategic Plan—has made positive strides in better connecting students, faculty and advisors since its campuswide launch this fall, according to data from the Office of Academic Programs.

The program, which aligns with the Academic Strategic Plan's call for enhanced student support and retention services, actively engaged more than a third of undergraduate students since its partial implementation last spring and subsequent campuswide implementation this fall. Students used it to reach out to professors and/or advisors to ask a question, schedule appointments or otherwise seek information or assistance. More than 800 faculty and staff, in turn, have used it to respond to students, raise a concern, offer praise for work well done or better coordinate advising protocols.
"The response we have gotten from students, advisors and faculty during this early phase of campuswide implementation has been mostly positive and very encouraging," says Kal Srinivas, director for retention in the Office of Academic Programs. "Faculty have also told us that in several instances, early feedback from them through Orange SUccess helped students bounce back in their courses when they might otherwise have fallen behind. We know that timely feedback on a student's academic progress is one of the best ways to ensure success, and this program gives both faculty and advisors a coordinated way of doing that."
Srinivas adds that the trial run using the program for mid-semester progress reports was also well received by faculty who participated.
An infographic with more detailed information on the program's progress in its initial year of implementation can be accessed here.
Orange SUccess had a pilot run at the Whitman School of Management, the College of Arts and Sciences and University College in spring 2016 before going campuswide this fall. Plans are in place to further expand the program to all graduate and law students in fall 2017.
Orange SUccess is in compliance with international standards for web content accessibility and has been further tested and verified by an independent third party. For more information on accessibility or on Orange SUccess in general, go to the program website.
Published on Tuesday, Sep 27, 2016 at 11:35 am
Shruti Marathe reports on the newest SU Advising website that serves to be a more efficient way to help students
Published on September 12, 2016 at 11:40 pm By William Muoio Contributing Writer
Ally Moreo | Asst. Photo Editor
'Cuse Cast for Week of Sept. 12
Fatima Bangura '17 anchors this week's Cuse Cast, with details on Valor Day and the kickoff for Orange SUccess.
Fall 2016 – Kickoff September 8, 2016

Published on Wednesday, September 7, 2016   By Carol Boll
Syracuse University students have a new online tool available this fall to help them stay better connected with their professors and advisors and on track academically fro
m semester to semester.
The program, known as Orange SUccess, is a web-based advising tool by which faculty can alert a student to issues—such as absence from class, assignment concerns, a poor grade or low participation—before they become a major concern. Faculty can also use the system to congratulate students for their good work or improved effort. Students, in turn, can use Orange SUccess to initiate a dialogue with their advisor and/or professor about a particular course, overall degree progress, or a more general concern. They can also use the system to schedule appointments with faculty and advisors.
"Our goal in adopting this program is to leverage technologies available to us to more effectively serve students and help ensure they have a successful academic experience here," says Kal Srinivas, director for retention in the Office of Academic Programs at Syracuse University. "That, in turn, bolsters our student retention rate, because students on track academically are more likely to remain in school through to graduation. So it's a win-win for the student and for the University."
Enhanced advising and retention services emerged as a Universitywide goal in the Academic Strategic Plan process, completed last year. Orange SUccess is part of that effort, working to boost student retention rates by flagging problems early before they potentially impact a student's academic progress. By looping in faculty and students, as well as advisors, the program facilitates a coordinated, team-based response to student concerns and prompt referral to appropriate resources for academic success.
Participation is critical to the program's success. All undergraduate students, faculty and advisors will automatically have access to Orange SUccess via MySlice and Blackboard (under Tools). Once users sign in, they should click on the Orange SUccess link found under the Faculty Services pagelet or on the "Ask for Help in Orange SUccess" link found under the Student Services pagelet. For students, their home page includes access to a customizable profile and personalized channels connected to faculty and advisors.
Faculty participation is especially critical, Srinivas says, and the goal is to get 80 percent of faculty on board this first year. One-hour online training sessions are available at the following times for all interested faculty:
Sept. 7, 6:30 p.m.
Sept. 9, 2:30 and 4 p.m.
Sept. 14, 6:30 p.m.
Sept. 16, 2:30 and 4 p.m.
Sept. 21, 6:30 p.m.
Sept. 23, 2:30 and 4 p.m.
Sept. 28, 6:30 p.m.
Sept. 30, 2:30 and 4 p.m.
(and continuing Monday's 2-3pm and Wednesday's 11-12pm until November 16th, 2016. )
To access the faculty training sessions, go to https://webconference.syr.edu/fall_2016_faculty_information_sessions.
Piloted last spring in the College of Arts and Sciences, the Whitman School of Management and University College, Orange SUccess is part of a national program, Starfish Retention Solutions, in use at more than 300 colleges and universities nationwide. Srinivas says feedback from the pilot was predominantly positive, from both students and participating faculty. Since the pilot, the team continues to work with the Office of Disability Services and Equal Opportunity, Inclusion and Resolution Services to ensure the program is accessible to as many users as possible. The Orange SUccess team has already received one update from Starfish with improvements to accessibility and expects another update in mid-November. More information, including an accessibility update, is available on the Orange SUccess website.
To get started with Orange SUccess, go to MySlice or to Blackboard and click on the Orange SUccess link.
To learn more about Orange SUccess, go to the program website at orangesuccess.syr.edu or e-mail orangesuccess@syr.edu.
Tuesday, March 22, 2016   By Keith Kobland
Seedat '16 explains a brand new tool a growing number of students will soon have at their fingertips, allowing quick and clear communication between their professors and faculty advisers.
Monday, March 7th, 2016 By Nina Leeds Daily Orange Staff Writer
Frankie Prijatel | Staff Photographer
The overarching goal of implementing the advising tool Orange SUccess is to increase Syracuse University's retention rate by 1 percent each year over the next five years, said Kal Srinivas, the director for retention in the Office of Academic Programs, on Monday.
Srinivas visited the Student Association at its Monday night meeting to give a presentation about Orange SUccess, an advising program currently in its pilot stage at SU. Orange SUccess is intended to improve communication between all members of the SU community.
Also at the meeting, SA Vice President Jane Hong provided updates on the syllabi visibility initiative and the preferred name policy. Hong also told the SA assembly that SU officials are concerned that they will not be able to use results from the campus climate survey.
Srinivas said Orange SUccess is being used in every 100 and 200 level course in the College of Arts and Sciences, the Martin J. Whitman School of Management and University College. As of now, 928 students, 244 faculty members, 63 teaching assistants, 63 advisers and a few representatives of other campus resources have created accounts, Srinivas said.
Every school and college will implement the system in the fall 2016 semester and every faculty member and student will be in the system, she added.
This semester is devoted to training the people who will be using the system next semester, Srinivas said. She added that there will be between 20-25 training sessions in April, as well as several in the summer and fall for teaching assistants. Another training session will be held in the fall to make sure everyone who needs training has been trained, she said.
Srinivas added that she has already received a lot of positive feedback regarding how manageable and user-friendly the system is. The system allows students to be flagged and given kudos, she said.
"It's not only the students at risk that we need to focus on, but all of our students," Srinivas said. "Our students who are doing well also need reinforcement."
The program is currently set up so that students can be flagged for seven factors: absence, attendance concerns, general concerns, low participation, low quiz or test scores, missing or late assignments or a notification to let the student know they are in danger of failing.
Students can also be given kudos to "keep up the good work," if they have an "outstanding academic performance" or if they are "showing improvement," Srinivas said.
The students themselves are also able to send notifications if they need an adviser's help or if they need help in a particular course, she said.
Srinivas added that the program is all about providing students with assistance before it is too late.
"The overarching goal is to help students' success, which, in itself, will help both retention and graduation rates," Srinivas said.
Currently, students at the State University of New York College of Environmental Science and Forestry are not in the system, but Srinivas said officials are working to fix that issue.
Srinivas also said that officials are working to make sure the program is easily accessible and understood by first-year students and international students.
Also at Monday's meeting, Hong said that so far only 11 percent of undergraduate students and 16 percent of graduate students have completed the campus climate survey. Officials are worried that not enough students will complete the survey to warrant using its results, Hong said.
The deadline to complete the survey has been extended to March 18.
Additionally, the assembly discussed the preferred name policy, a policy that will allow students to receive emails and other documents issued to the name of their choice.
Hong said she hopes this initiative will help international as well as transgender students on campus. She said that, if all goes as planned, this program will be implemented by the fall.
Hong also discussed SA's continued work on the syllabi visibility project, an initiative SA President Aysha Seedat has been working on with other assembly members that aims to make syllabi available to students before they sign up for the class.
Seedat plans to meet soon with Andria Costello-Staniec, associate provost for academic programs, to discuss the policy, Hong said.
Published on March 7, 2016 at 11:51 pm
Contact Nina: nsleeds@syr.edu
The Orange SUccess kickoff was held 1/20/16, in the Life Sciences Building Atrium and the Whitman Building Atrium. The Orange SUccess core team and Otto engaged over 800 students in this kick off event.
Today, Syracuse University launched the Orange Survey, a new initiative to better understand the experiences of undergraduate students. It is part of the provost's office Student Academic Success initiative that also includes the new Orange SUccess advising system and an online degree audit system.
The Orange Survey will be emailed to all undergraduate students today with questions that focus on the academic, financial, social and campus experiences of undergraduates.
"This survey is one way for students to tell us about their experiences at the University and this information is very important for future decisions regarding student life," says Libby Barlow, assistant vice president for institutional research and assessment. "It is the goal of the University to always be striving to give students the best experience possible, and this can be done by engaging with them and hearing what they have to say." 
Barlow says the survey is one of many tools to better understand the undergraduate experience and help students succeed. Data from the survey will inform strategic decisions and assist in evaluating the effectiveness of new and continuing campus initiatives.
"We have conducted a series of focus groups and collected a lot of good information about what experiences figure into student success.  The survey will allow us to measure more precisely what the impact is—which experiences are associated with completing a degree, and which experiences are not helping," Barlow says. "There is a lot of research about undergraduate student success, and we are taking a lot of wisdom from that, but we also need to know about the factors that are at work for Syracuse students in particular."
All students who complete the survey will be entered to win prizes, including tickets to the Nov. 14 SU football game and gift certificates for restaurants, bookstores and other activities.
Syracuse University News is produced by the Office of News Services in the Division of Public Affairs